Posted by QuoteColo on March 18, 2020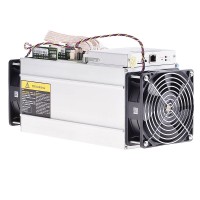 Do you have an Antminer machine from Bitmain?
Antminer is easily one of the most well-known and popular brands when it comes to cryptocurrency mining today, as they are known to be some of the best machines on the market. They are reliable and powerful, and they are often the first type of miner that people consider when they are getting into this field. While the hardware of the machines is impressive, it's the firmware that helps to keep everything up and running properly with those machines.
Let's take a closer look at firmware to get a better idea of what it is, why you need it, and why you should consider updating the custom Antminer firmware when it is available.
What is Antminer Firmware?
Firmware is a set of software instructions used by hardware to perform the functions the hardware was made to handle. In this case, the hardware is an Antminer machine. The firmware runs the machines and provides them with the functionality you need to make a return on your investment. Over time, older firmware becomes outdated, and that is when Bitmain releases new versions that you can use to update your machine.
Do You Really Need to Update the Firmware?
Just how important at firmware updates? You don't want to make the mistake of keeping the same firmware that you have been using on your machine when there are updates because you could be missing out on new functionalities and better security. The purpose of firmware is to make sure the machines are the best they can possibly be, so it is important that you take the time to upgrade them when the new, reliable firmware is available.
Always follow the proper instructions from Bitmain to make sure that you are updating properly, so you can get your machine into peak performance.
What to Consider When Updating the Firmware for an Antminer
One of the most important things to be mindful of when you are updating your firmware is making sure that you are downloading the correct firmware for your machine. Bitmain makes a wide range of Antminer machines, and they will have their own firmware and updates. Always make sure that you triple-check to guarantee that you are downloading the right firmware to update your machine.
In addition, even though the firmware for the Antminer machines is high-quality and works well, it is a good idea to have a backup copy of your current firmware. This is helpful in case there is an issue with the new firmware and your machine. If there is, you can upload the older firmware that you had been using until the newer firmware is fixed. When the new firmware has been fixed you can download it and install it again.
One of the big mistakes that some who are new to mining bitcoin and cryptocurrency make is not understanding the importance of keeping their firmware updates. By ensuring that you have the latest firmware, you can be sure your machines are working optimally.