Posted by QuoteColo on May 14, 2018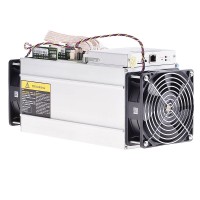 When mining Bitcoin, you need to consider all the costs and requirements of operating the machine whether you are running it at home or you have the machine in a datacenter. Not only must you factor in the cost of the unit itself, but you will also need to think about just how much bandwidth it will typically require, and how much energy it is using. Let's get a better look at these requirements and what they can mean for you.

What Are the Bandwidth Requirements?
The bandwidth is simply the Internet speed that you have been allocated by your Internet service provider. If you have a speed of 10Mbps, it would mean that you could receive 10 megabits of data in a single second. The higher the bandwidth the better. It means that you can more easily stream shows or play games without issues such as buffering.
When it comes to the Antminer S9, and similar ASIC Bitcoin miners for that matter, you might imagine that they are going to use up a substantial amount of your bandwidth. However, that tends not to be the case. In fact, you will find that the requirements for uploading and downloading data from a pool tends to be quite minimal, and most people will not have to worry if they are going to be housing their Antminer S9 at home. Even when you have multiple machines running on the same Internet connection, there should not be any issues at all.
The main cost tends to be the energy consumption, along with the space and the initial investment requirements. Still, there are some things that you can do to ameliorate some of the costs.
The Energy Costs
The Antminer S9 is a powerful machine that offers 14 TH/s, which means it is one of the top performing ASIC miners available today. However, with that power comes a requirement for energy. While it is still efficient, at 0.098 W/Gh, you are still going to be spending quite a bit on electricity as you are mining. Therefore, you will want to find a way that you can cut down on those costs. In addition, keep in mind that the Antminer S9 does not come with a power supply, so you will need to buy one separately if you are going to use it at home.
If you live in an area that has low electricity rates, you might consider running the machine at home. After all, the bandwidth requirements are minimal. However, they do tend to get hot, not to mention loud, and you will also have to figure out ways that you can keep the machine cool. Having a cooling system in the house is going to utilize even more energy.
You may want to do what many other miners have been doing who want the potential to make more of a profit. They are putting their machines in datacenters in locations where the cost of the energy tends to be quite low when compared with other areas. Even when factoring in the cost of the datacenter, it can turn out to be quite a bit more affordable to house your machine, or several machines in many cases, rather than at home. Again, the bandwidth usage is low, so you shouldn't have to worry too much about that adding to the cost of using the datacenter.
As you can see, there are ways that you can keep your costs reasonable, and make sure you have plenty of energy, bandwidth, and even security for your machines. By looking for the cheapest energy rates, it can help to increase the return on your machine.
Check out our Antminer S9 & Antminer S17 buy/host packages.