New York Bitcoin Mining Colocaton
Given the existing "bear" and "bull" runs of the Crypto Mining Hosting market, the NYS Bitcoin hosting mining changes often. Currently our best miner hosting rates are in a mining farm that is approximately 2-3 hours North of NYC. Clients can expect to pay about 6 to 6.5 cents USD all in (rack space, power, cooling & Internet). As an example, an Antminer S19 Pro would cost approximately $130/month (.o6cents x 3kw x 24hours x 30days). All types of ASIC units accepted.
Our New York State host also offers Antminer buy/host packages. Eliminate delays, tariffs, shipping costs and purchase an Antminer (ie) S17, S19 Pro, etc. directly from the host company and they will rack and stack it and get you connected. You own the miner and they will ship it back to you or continue to host it after your contract term has expired.
We also offer used/new ASIC & GPU miners for sale.
Please contact us for more details and pricing.
Call 888-400-5732
Text 617 640 0309
email sales@quotecolo.com
New York State offers over 100 data centers to choose from. New York City alone represents over 50% of these facilities. The 60 Hudson data center in NYC is one of the most well connected facilities in the World with over 100 telecom carriers available. Finding a qualified Bitcoin mining hosting data center in New York is pretty complicated. The bigger colocation providers don't like miners and GPU rigs because of the power draws and cooling requirements. The smaller colocation facilities can't handle the MW of power required. QuoteColo has done its homework and we have found several NY data centers that now cater to Bitcoin miners.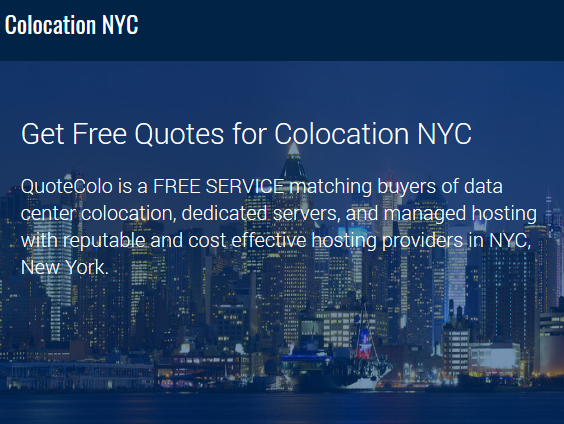 New York Mining Data Center #1
Thirty miles North of New York City and 220 feet above sea level, this colocation facility can host both ASIC Mining and GPU rigs.  They are a traditional colocation and disaster recovery provider which started offering miner hosting and colocation in early 2017. Their CrytoCurrency colocation offers the following specifications –  high density power, guaranteed uptime, rapid deployment, physical security and a back up generator. Antminer S9 colocation pricing starts at $225/month (rack space, power and cooling). GPU rig hosting pricing is custom. Please contact us directly for a direct quote.
New York Mining Data Center #2
Located in Central New York State, this ASIC hosting miner only facility offers up to 4MW at the following KW rates – $75-$90 KW/Month. If clients pre pay for 12 months, they can achieve the best rates on space and power. They also offer 6 month, 3 months and monthly pricing options. Antminer S9 all in pricing starts at $113/month with a ten miner minimum. GPU rig hosting is not available at this time.
New York Mining Data Center #3
Hundred plus miles North of Albany, this ASIC miner hosting facility offers some of the cheapest electrical rates in the country along with a very cool climate. Colocation hosting for up to 500 miners and expandable to 10MW of power. They can host Bitcoin, Litecoin, Dash and GPU rig miners. They also offer Bitcoin cloud shared hosting option starting at $9.99/month. Antminer S9 colocation all in pricing starts at $125/month.
If you need a New York mining host, please give us a try. Fill out the contact form above, email sales (at) quotecolo.com or call 888-400-5732. Our service is 100% free and we will source you direct quotes within hours and not days. Act fast because space and power are filling up fast!